Random Verse
"Behold, I come quickly: blessed is he that keepeth the sayings of the prophecy of this book."
- Revelation 22:7 (KJV)

About Us
LifeMusic Wiki is a collaborative website about Christian music that anyone can edit! We are the largest Christian music wiki on the web and we would much appreciate your help! Our users are currently working on 2,315 articles and we encourage you to join! If you are a newcomer, be sure to read the Code of Conduct, Statement of Faith (which holds a Protestant view), Who We Endorse page, Manual of Style, and Layout Guide before you edit. Here is a list of areas that are in need of severe editing. Got a suggestion? Need help? Wanna contact us? Visit here.
Below are some general wiki statistics for this site.
2,315 articles
7,718 pages
1,214 files
5 administrators
32,597 edits

Featured article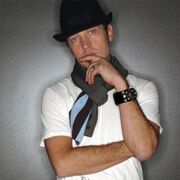 Kevin Michael "Toby" McKeehan, professionally known as tobyMac, is a Christian rap, hip hop, and rock artist from Nashville, Tennessee. He was born in Fairfax, Virginia on October 22,

1964

. He was known for being a member of the trio dc Talk from

1987

to its hiatus in 2000. He has since had a very successful solo career. He has released four studio albums, three remix albums, one EP, one live album/DVD, and one DVD during his career as a soloist. The studio albums are Momentum (2001), Welcome to Diverse City (2004), Portable Sounds (2007), and Tonight (2010). The remix albums are Re:Mix Momentum (2003), Renovating Diverse City (2005), and Dubbed and Freq'd: A Remix Project (2012). The live album/DVD is Alive and Transported (2008), and the DVD is Moving Pictures (2010). The EP is Discover: tobyMac EP.

Official friends of LifeMusic Wiki